Division 52 Webinars are hour long informational and skill building sessions. They are open to the public. There is an opportunity for discussion with the presenter.
There are currently no upcoming webinars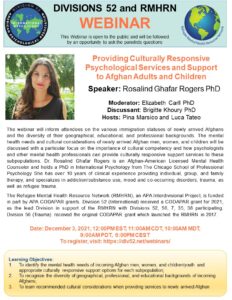 Providing Culturally Sensitive Support to Afghan Children and Adults
Rosalind Ghafar Rogers, moderated by Elizabeth Carll with Brigitte Khoury as discussant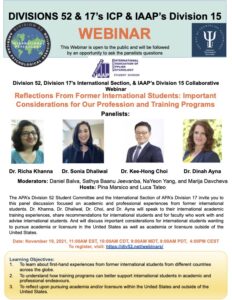 Reflections from Former International Students: Important Considerations for Our Profession and Training Programs
Richa Khanna, Sonią Dhaliwal, See-Hong Choi, Dinah Anya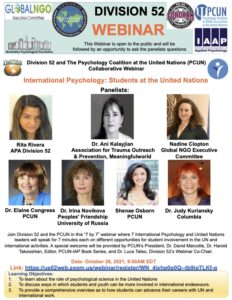 International Psychology: Students at the United Nations
Rita Rivera, Ani Kalayjian, Nadine Clopton, Elaine Congress, Irina Novikova, Shenae Osborn, Judy Kurians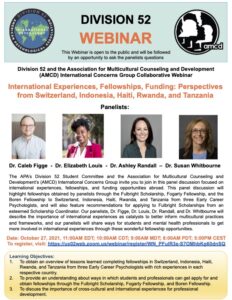 International Experiences, Fellowhips, Funding: Perspectives from Switzerland,  Indonesia, Haiti, Rwanda and Tanzania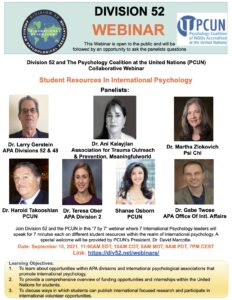 Student Resources in International Psychology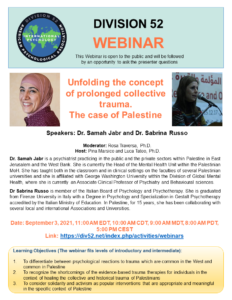 Unfolding the Concept of Psychological Collective Trauma: The Case of Palestine
Samah Jabr and Sabrina Russo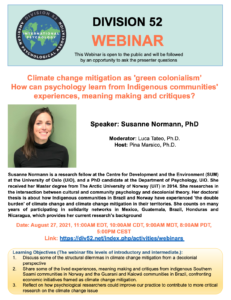 Climate Change Mitigation as "Green Colonialism": How Can Psychology Learn from Indigenous Communities' Experience, Meaning Making and Critique?
Susanne Norman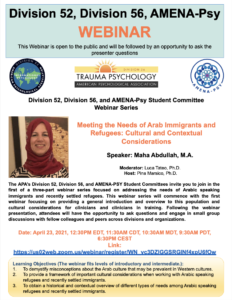 No Recording Available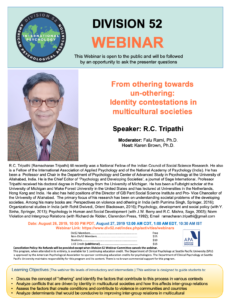 View Online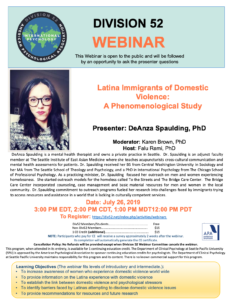 View Online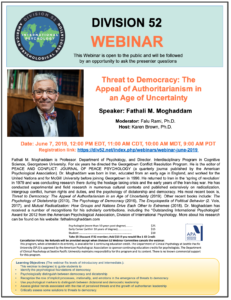 View Online
WEBINAR LIBRARY
Titles Availble:
Solitude, Solidarity, Sacrifice During the Pandemic, Dr. Martin Dege (January, 2021)
Reparations, Mental Health and the African Diaspora, Dr. Ray Winbush (November, 2020)
Pandemic Series: Psychology and Indigenous People: Frontiers and Barriers, Danilo Silva Guimares (October 2020)
Mindfulness, Compassion, and International Psychology, Dr. Viviane de Castro Pecanha (October, 2020)
Pandemic Series: Making Uncertainty and Living with it: What theoretical psychology can learn from the cultural history of epidemics, Dr Jaan Valsiner (September, 2020)
On my own and through hard work: I have achieved it all and I am ready to change the world, Into Outini (September, 2020)
Pandemic Series: Consequences of a Crisis: Why it is even more evident that there an be no psychology without culture, Nandita Chaudhary (August, 2020)
Pandemic Series: The Courage to Be? Reconfiguring Existentialism for Climate Change and COVID-19, Paul Rhodes (July, 2020)
Research Design and Data Collection in a Volatile Time Period, Dr. Susan Swayze (July, 2020)
Pandemic Series: Face Masks as New Interface in Human Relations After Pandemic, Luca Tateo (June 2020)
Sexual Assault Awareness and Prevention, Tonya Hill, Chara Gladden, Patti Adams (June 2020)
From Nudge to Change: The Importance of Being Earnest, Credible and Versatile, Dr. Kristjan Civljak (June, 2020)
Humanitarian Perceptions of Syrian Refugees' Adjustment Experience – Interpretative Phenomenological Analysis Study, Dr. Falu Rami (May, 2020)
Demonstrating Specialty Practice: The International Role of Board Certification in Psychology, Leo Carabello (April, 2020)
Rwandan Way of Parenting: Promoting a Culture of Peace, Joyce Yip Green (March, 2020)
International Perspectives on Work and Livelihood, Stuart Carr (January 2020)
Challenges and the Future of Psychology in Kosovo (2019-December)
Arab LGBT Clients: The Do's and Don't in Psychotherapy (2019- December
Biochemical Imbalances – what every psychologists needs to know. A. Mensah, USA (2019-November)
From Othering to Un-Othering: Identity Contestations in Multiclutural Societies. R. C. Tripathi, India (August, 2019)
Technologies, Organizations and Tools for Global Psychologists in Humanitarian Intervention (2019-May)
Journey to Learning and Training in Psychlogy (2018, September)
My Personal Journey from Evil to Hero (2018 July)
Understanding Compassion in the Workplace (2018, January)
Cultivating Global Learning and Psychological Growth (2016, January)
The Humanistic, Vigorous and Universal Approach of REBT (2015, November)
Mental Health Service Delivery in Rwanda (2015, October)
Understanding International Trauma (2015, September)
Seven-Step Integrative Healing Model (2015, July)
An Integrative Psychotherapy Model (2015, May)
An Emerging Role for Psychologists in Immigration (2014, November)