Division 52 Webinars are hour long informational and skill building sessions. They are open to the public. There is an opportunity for discussion with the presenter.
Webinar Library – all D52 webinars
There are currently no upcoming webinars
Use this tool to check the time of the webinar in your timezone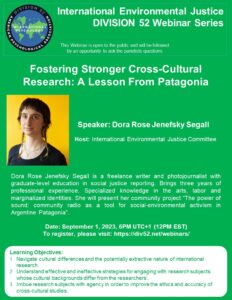 Fostering Stronger Cross-Cultural Research: A Lesson From Patagonia
Speaker: Dora Rose Jenefsky Segall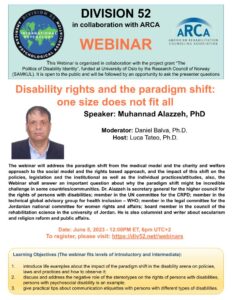 Disability rights and the paradigm shift: one size does not fit all
Speaker: Muhannad Alazzeh, PhD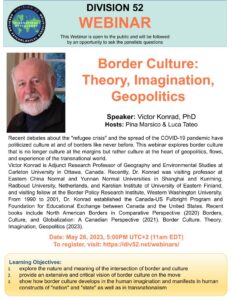 Border Culture: Theory, Imagination, Geopolitics
Speaker: Victor Konrad, PhD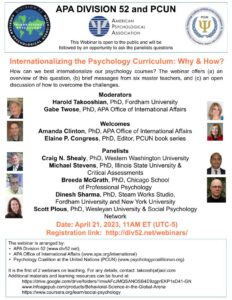 Internationalizing the Psychology Curriculum: Why & How? 
DIV 52 – International Psychology, Psychology Coalition of NGOs at the United Nations, and APA Office of International Affairs.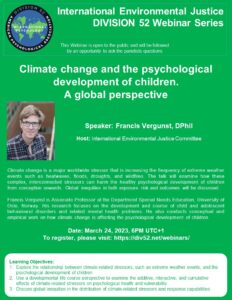 Climate change and the psychological development of children – A global perspective
Speaker: Francis Vergunst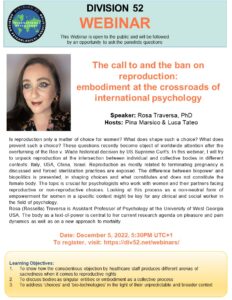 The Call to and the Ban on Reproduction: Embodiment at the Crossroads of International Psychology
Speaker: Rosa Traversa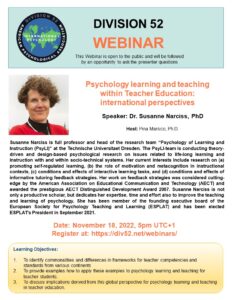 Psychology Learning and Teaching within Teacher Education: International Perspectives
Speaker: Susanne Narciss; Moderator: Pina Marsico
Date of Presentation: November 18, 2022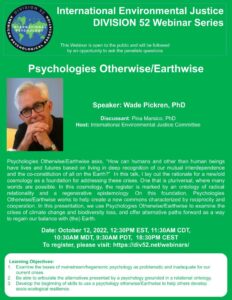 Psychologies Otherwise / Earthwise
Webinar from the International Environmental Justice Committee
Speaker: Wade Pickren; Moderator: Pina Marsico
Date of Presentation: October 12, 2022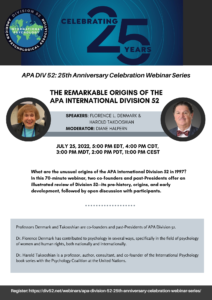 Division 52 Anniversary Series
The Remarkable Origins of the APA International Division 52
Speaker: Florence Denmark & Harold Takooshian; Moderator: Diane Halpern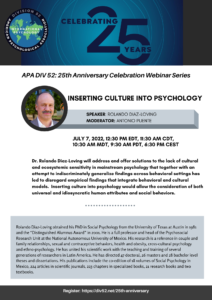 Division 52 Anniversary Series
Inserting Culture into Psychology
Speaker: Rolando Diaz-Loving; Moderator: Antonio Puente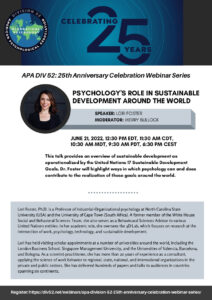 Division 52 Anniversary Series
Psychology's Role in Sustainable Development around the World
Speaker: Dr. Lori Foster ; Moderator: Dr. Merry Bullock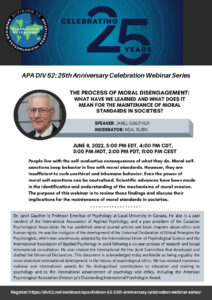 Division 52 Anniversary Series
The Process of Moral Disengagement
Speaker: Dr. Janel Gauthier; Moderator: Dr. Neal Rubin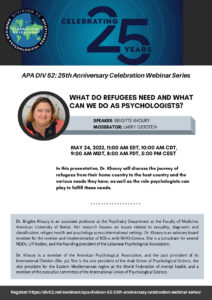 Division 52 Anniversary Series
What do refugees need and what can we do as psychologists?
Speaker: Dr. Brigitte Khoury; Moderator: Dr. Larry Gerstein
Dr. Khoury discusses the journey of refugees from their home country to the host country and the various needs they have, as well as the role psychologists can play to fulfill these needs.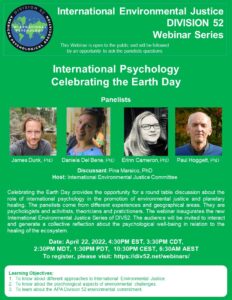 International Environmental Justice Committee: International Psychology Celebrating Earth Day – April 22 – Panelists: Erinn Cameron, Daniela Del Bene, James Dunk, and Paul Hoggett; Discussant Pina Marsico; Round table discussion about the role of international psychology in the promotion of environmental justice and planetary healing.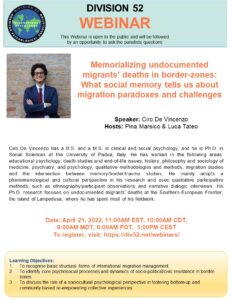 Memorializing undocumented migrants' deaths in border-zones: What social memory tells us about migration paradoxes and challenges
Ciro De Vincenzo focuses on undocumented migrants' deaths at the Southern European Frontier, the island of Lampedusa, where he has spent most of his fieldwork.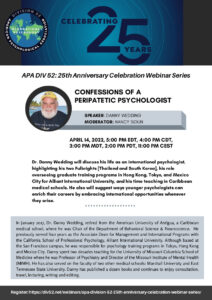 Division 52 Anniversary Series
Confessions of a Peripatetic Psychologist
Speaker – Danny Wedding (Moderator Nancy Sidun).  Dr. Wedding discusses life as an international psychologist, and suggests ways younger psychologists can enrich their careers by embracing international opportunities whenever they arise.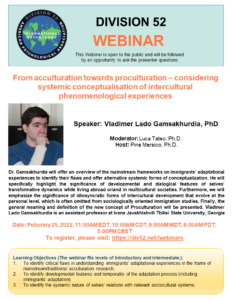 From acculturation towards proculturation – considering systemic conceptualisation of intercultural phenomenological experiences
Highlights significance of developmental and dialogical features of selves' transformative dynamics while living abroad or/and in multicultural societies. Meaning and definition of the new concept of "Proculturation" are presented.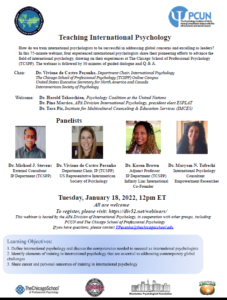 Teaching International Psychology
How do we train international psychologists to be successful in addressing global concerns and excelling as leaders?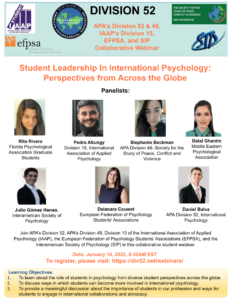 Student Leadership In International Psychology: Perspectives from Across the Globe
APA's Division 52, APA's Division 48, Division 15 of the International Association of Applied Psychology (IAAP), the European Federation of Psychology Students' Associations (EFPSA), and the Interamerican Society of Psychology (SIP) realized this collaborative student webinar.
WEBINAR LIBRARY
(being updated through 2021)
Solitude, Solidarity, Sacrifice During the Pandemic, Dr. Martin Dege (January, 2021)
Reparations, Mental Health and the African Diaspora, Dr. Ray Winbush (November, 2020)
Pandemic Series: Psychology and Indigenous People: Frontiers and Barriers, Danilo Silva Guimares (October 2020)
Mindfulness, Compassion, and International Psychology, Dr. Viviane de Castro Pecanha (October, 2020)
Pandemic Series: Making Uncertainty and Living with it: What theoretical psychology can learn from the cultural history of epidemics, Dr Jaan Valsiner (September, 2020)
On my own and through hard work: I have achieved it all and I am ready to change the world, Into Outini (September, 2020)
Pandemic Series: Consequences of a Crisis: Why it is even more evident that there an be no psychology without culture, Nandita Chaudhary (August, 2020)
Pandemic Series: The Courage to Be? Reconfiguring Existentialism for Climate Change and COVID-19, Paul Rhodes (July, 2020)
Research Design and Data Collection in a Volatile Time Period, Dr. Susan Swayze (July, 2020)
Pandemic Series: Face Masks as New Interface in Human Relations After Pandemic, Luca Tateo (June 2020)
Sexual Assault Awareness and Prevention, Tonya Hill, Chara Gladden, Patti Adams (June 2020)
From Nudge to Change: The Importance of Being Earnest, Credible and Versatile, Dr. Kristjan Civljak (June, 2020)
Humanitarian Perceptions of Syrian Refugees' Adjustment Experience – Interpretative Phenomenological Analysis Study, Dr. Falu Rami (May, 2020)
Demonstrating Specialty Practice: The International Role of Board Certification in Psychology, Leo Carabello (April, 2020)
Rwandan Way of Parenting: Promoting a Culture of Peace, Joyce Yip Green (March, 2020)
International Perspectives on Work and Livelihood, Stuart Carr (January 2020)
Challenges and the Future of Psychology in Kosovo (2019-December)
Arab LGBT Clients: The Do's and Don't in Psychotherapy (2019- December
Biochemical Imbalances – what every psychologists needs to know. A. Mensah, USA (2019-November)
From Othering to Un-Othering: Identity Contestations in Multiclutural Societies. R. C. Tripathi, India (August, 2019)
Technologies, Organizations and Tools for Global Psychologists in Humanitarian Intervention (2019-May)
Journey to Learning and Training in Psychlogy (2018, September)
My Personal Journey from Evil to Hero (2018 July)
Understanding Compassion in the Workplace (2018, January)
Cultivating Global Learning and Psychological Growth (2016, January)
The Humanistic, Vigorous and Universal Approach of REBT (2015, November)
Mental Health Service Delivery in Rwanda (2015, October)
Understanding International Trauma (2015, September)
Seven-Step Integrative Healing Model (2015, July)
An Integrative Psychotherapy Model (2015, May)
An Emerging Role for Psychologists in Immigration (2014, November)