D52 Midwinter Board Meeting – January 14, 2-5 pm EST via ZOOM
SIGN UP HERE – for involvement in Division 52 committees, task forces, or other activities
Welcome from the President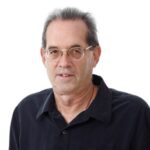 Thank you for visiting the Division 52 website. As APA's International Psychology Division, we value the diverse activities of psychologists worldwide.
Now more than ever we must network psychologists and psychology students around the globe to strengthen our role tobetter understand and address the challenges facing our species and planet, and also to confront and overcome the Euro and U.S. centric hegemony in our discipline. As an organization comprised of individuals from many countries, Division 52 is well positioned to further contribute to the achievement of these goals.
We welcome your input, involvement, and invite you to join our Division if you are not yet a member, especially if you reside outside of the United States. With greater capacity, expertise, and the voices of a larger number of psychologists and students worldwide, we will assist in the evolution of establishing cross-culturally valid theories, research paradigms, service delivery systems, assessment tools, and educational and training models, for instance, in psychology.
Lawrence, H. Gerstein, PhD
Muncie, Indiana United States
2019-12-22